2014 BMW Z4 Review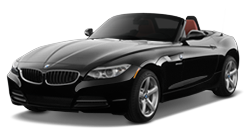 Overview
The 2014 BMW Z4 depicts an intelligent interplay of classical proportions and state-of-the-art technology and the updated version of this Roadster is all set to rule the roads yet again and is ready to charm with an alluring contemporary interpretation of the traditional concept. Introduced 25 years ago at the 1987 International Motor Show in Frankfurt the BMW Z1 Roadster was an instant hit because of its revolutionary door concept and excellent handling. Later the BMW Z3 and Z8 triggered a fresh wave of excitement with the open-top two-seater concept in the 1990s and paved the way for the first generation Z4 and its successor models.
Power and performance
Powering the sDrive28i model is BMW's new turbocharged 2.0-liter four-cylinder engine which churns out 240bhp and 260 lb-ft of torque about 15bhp more than the previous engine and the fuel economy has also increased to an impressive 22mpg city/34mpg highway. The swifter sDrive35i is powered by a turbocharged 3.0-liter inline-six cylinder engine which roars up to 300bhp and 355 lb-ft of torque and an estimated fuel economy of 17mpg city/24mpg highway. The top-of-the-line sDrive35is brings an upgraded version of the turbo six engine and churns out 335bhp and 332 lb-ft of torque which returns a fuel economy rate of 17mpg city/24mpg highway.
Body and styling
The popularity of the 2014 BMW Z4 lies in the rigorous execution of a concept which is clearly distinguishable in the current model with its long wheelbase, sweeping bonnet, low-slung rear end play and a low seating position gives the driver a particularly intense and satisfying driving experience. The twin circular headlights team up with the broad BMW kidney grille to form the signature front-end BMW look and the LED light rings now have a three-dimensional design which accentuates the intricate technology of headlights. The hardtop roof also blends carefully with the car's form and is available in two contrast colors, Black non-metallic and Glacier Silver metallic. The 2014 BMW Z4 is available in three different trims depending on the engine size: sDrive28i, sDrive35i and sDrive35is. The base model 28i comes equipped with standard features like 17-inch wheels, cruise control, adaptive bi-xenon headlights, heated mirrors, driver memory functions, tilt-and-telescoping steering wheel, Bluetooth, driver memory functions, a sound system with CD player, HD radio and an auxiliary audio jack. The 35i gets 18-inch wheels, sports seats with adjustable bolsters and thigh support, sun-reflective leather upholstery and the 35is further adds unique styling cues, sport steering wheel and a lowered suspension along with a powerful engine. Additional features like heated steering wheel, M-tuned suspension, special interior trim, heated seats, BMW Assist emergency communication and an upgraded sound system amongst other features are added under different packages. Newer additions like high-gloss black surrounds for central air vents and the iDrive control system's folding Control Display are available as part of the Professional package system.
Safety Features
The 2014 BMW Z4 Roadster comes fully-equipped with standard safety options of traction and stability control, knee airbags, rollover protection system and front and dual front airbags. The optional BMW Assist emergency feature integrates stolen vehicle recovery, automatic crash notification and on-demand roadside assistance program.