What's Going On In Elmhurst? The 99th Annual Elmhurst Memorial Day Parade
Every year, we look forward to Elmhurst's annual Memorial Day Parade, which is sponsored by the Elmhurst Chamber of Commerce & Industry, with the assistance of the City of Elmhurst, the City's Park District and Elmhurst veterans associations. It's fun for kids and parents alike, and it's a time when we remember the people who died while serving our country. The parade kicks off on Monday, May 29, 2017, starting at 9:30 a.m.
This year's Grand Marshal will be John M. Wendel, retired Brigadier General and Chaplain in the U.S. Air Force. Members of the Kiwanis Club of Elmhurst will once again serve as Parade Marshals, assisted by Veterans of Elmhurst College. Look for the group to march with their colossal American flag, a parade favorite.
Some 90 entries will march in Elmhurst's 99th Annual Memorial Day Parade, including:
The Antioch Brass Quintet
Chicago Highlanders Pipes and Drums
Carver Military Academy Drill Team and Drum Corps
Chorus of DuPage, Patton Academy (Farragut Career Academy)
Chicago Symphonic Wind Ensemble
JROTC Drill and Drums Team
Retired military officers from all branches of the military
Seven color guards (the lead will feature members of the Elmhurst Police Department and the Elmhurst Fire Department)
Members of American Legion Post 187
Members of VFW Post 2801
Civil War re-enactors with military vehicles
Three boy scout troops
Nine cub scout packs
One troop of girl scouts
Marching Dukes: the York High School marching band
Elmhurst Middle Schools marching band
A group of elected leaders that includes Elmhurst Mayor Steve Morley, City Council members and Representative Mike Quigley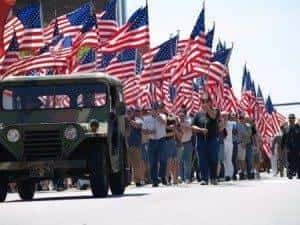 The parade begins at the corner of York and Third streets and ends at the Wilder Mansion in Wilder Park. A Post-Parade Military Ceremony at Wilder Park will follow at 11 a.m. The ceremony features commemorative speeches, the laying of wreaths, and the traditional three-round volley. In addition, the names of local veterans who passed away since Veteran's Day 2017 will be read.
Elmhurst BMW takes pride in our community. We take part in many local events. We know you'll appreciate the work that has gone into bringing the parade to you this year. We hope to see you there!