Be Part of the Library's Time Capsule Celebration – Elmhurst BMW Dealer
The Elmhurst Public Library commemorates its newly renovated Kids' Library with a Time Capsule Celebration on Saturday, August 25 from 11:30 a.m. to 12 p.m. Children can write letters to their future selves and include them in the time capsule, to be opened in 2028. All of us at Elmhurst BMW who are parents love taking our children to the new Kids' Library, and we believe the Time Capsule is a great idea.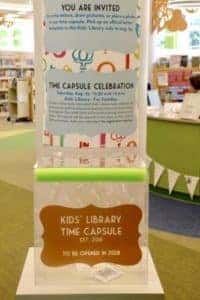 In addition to celebrating the updated Kids' Library, another reason for the August 25 party is to create the time capsule. Children who want their letters to be included in the time capsule can look forward to reading them again in 2028, the Library's twenty-fifth anniversary. Parents, please stop by the Kids' Library this week to pick up templates so your children can write their letters. Photos and drawings can also be included.
Sarah Burnside, a preschool services librarian at the Kids' Library, says the letter template includes writing prompts that encourage children to imagine what their futures hold. Some are even considering their careers, such as a professional baseball player.
Rita Perona, head of marketing for the library, said she hopes the celebration will cause people to think about what the library means to them and to Elmhurst. "We hope that we're a positive place and experience for everyone to come and spend time here and to learn the love of reading and to come to our programs," she said.
No reservations are required for the Elmhurst Public Library's Time Capsule Celebration. We hope to see you there!
Date and Time:
August 25, 2018, 11:30 a.m. to 12 p.m.
Location:
Kids' Library at the Elmhurst Public Library
125 S. Prospect Ave.
Elmhurst, IL 60126
Admission:
Free.
For More Information:
Call 630-834-0202 or visit www.elmhurstpubliclibrary.org.