Bring Your Baskets to the Egg Hunt in Wilder Park – Elmhurst BMW Dealer
Spring is in the air, and that means the Egg Hunt in Wilder Park is just around the corner. This year's family- and dog-friendly event is on Saturday, March 31. You can take free photos with the Easter Bunny starting at 9 a.m. Children who are ages 1 to 10 years old are invited to take part in the Egg Hunt that starts at 10 a.m. sharp. Even your dogs can join in the fun! Dogs in costume can participate in the Doggie Eggstravaganza at 10:30, where they can win prizes for best costume. All of us at Elmhurst BMW appreciate the spring tradition of the Egg Hunt in Wilder Park and hope you can attend.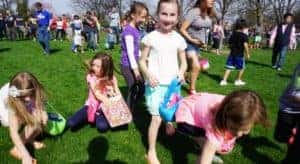 This year's Egg Hunt will be better than ever, according to the Elmhurst Park District. They've added even more eggs, for a total of 10,000 to be hidden in the park. Children will be divided into groups by age, and each group will have their own dedicated egg hunting area. The addition of overflow parking will make getting to the Egg Hunt easier.
Kids will be divided into the following age groups: 1-2 years, 3-4 years, 5-7 years and 8-10 years old. Each group will look for eggs in their own area, and everyone has the chance to win eggs containing special prizes. It's fine for you to help your younger children put eggs in their baskets, but not the older kids. They do just fine on their own! It's important to arrive to the Egg Hunt early enough so your children are in the right area according to their ages. Remember, the Egg Hunt starts at 10 a.m. sharp.
If you haven't seen the Doggie Eggstravaganza before, you're in for quite a sight. Dogs dressed in their finest and funniest costumes will sniff out their own treat-filled eggs. Prizes will be awarded for best dog costumes.
Leave enough time to park your car when you arrive at the Egg Hunt because there are limited spaces within the park. Overflow parking is located in the lots of nearby Hawthorne Grade School, Immaculate Conception Church and Elmhurst College.
We hope to see you on Saturday morning, March 31 for the Egg Hunt in Wilder Park. The 2018 Egg Hunt is sponsored by local businesses SBT-Suburban Bank & Trust, The Schiller Team and Healthy Driven Edward-Elmhurst Health.
Date and Time:
Saturday, March 31
Easter Bunny photos begin at 9 a.m.
Egg Hunt begins at 10 a.m. sharp
Doggie Eggstravaganza begins at 10:30 a.m.
Location:
Wilder Park
Elmhurst, IL 60126
Admission:
Free.
For More Information:
Visit www.epd.org or call 630-993-8900.