Celebrate Summer's End at Rock the Block Party – Elmhurst BMW Dealer
Elmhurst City Centre invites you to attend their end of summer blowout, the Rock the Block Party, on Friday evening, September 7 and all day on Saturday, September 8. Enjoy delectable food from 19 City Centre restaurants, hear live music provided by great Midwestern bands and enjoy a Family Fun Zone (only on September 8). At Elmhurst BMW, we love the warm weather as much as you do. The Rock the Block Party makes saying goodbye to summer a little easier!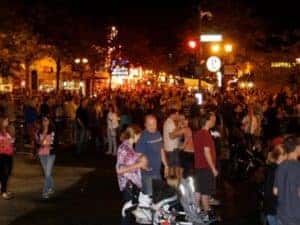 You can party with your friends and neighbors from 4-11 p.m. on September 7 at Elmhurst City Centre, located at the intersection of York and Schiller Streets. This year, 19 popular City Centre restaurants, including Bacci Pizza, Courageous Bakery, Francesca's Amici, Kilwins, Livia Italian Eatery, Nu Crepes, Pazzi di Pizza, Red Arrow Tap Room, Sushi Time and others, will serve delicious food at reasonable prices. You can also purchase beer, wine and sangria at one of the three alcoholic beverage tents.
There's fun for the whole family at Rock the Block on Saturday, September 8 from 11 a.m. to 11 p.m. In addition to great food and live music, the free Family Fun Zone is open from 11 a.m. to 5 p.m. Kids can participate in jewelry making, arts and crafts, face painting, games and more!
The two-day Rock the Block Party is an amazing street festival and the best entertainment deal in town. Admission, parking, live music and the Family Fun Zone are all free! So come out, enjoy yourself and say goodbye to summer with us.
Date and Time:
Friday, September 7,
4 p.m.-11 p.m.
Saturday, September 8
11 a.m. to 11 p.m.
Location:
Elmhurst City Centre
York and Schiller Streets
Elmhurst, IL 60126
Admission:
Free. Food and beverages are available for purchase.
For More Information:
Call 630-993-1600 or visit www.elmhurstcitycentre.com.