Celebrate the Holidays at the Jolly Old St. Nicholas Concert – Elmhurst BMW Dealer
The Elmhurst History Museum holds its fifth annual Jolly Old St. Nicholas Concert at 6:30 p.m. on Friday, November 30. The concert features two local German choirs performing German Christmas carols. You can also enjoy hot cocoa, cookies and photo opportunities with Jolly Old St. Nick himself. Children are invited to come wearing their pajamas. At Elmhurst BMW, we think the Jolly Old St. Nicholas Concert is a wonderful, family-friendly holiday tradition that you won't want to miss.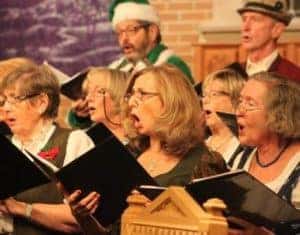 This annual seasonal concert celebrates Elmhurst's German immigrant heritage. The two German choirs that will perform have been delighting area audiences for more than 80 years. They are Männerchor and Damenchor, which translates from German to "men's choir" and "women's choir."
Jolly Old St. Nick will tell the story of St. Nikolaus, a real Christian bishop who died in 343 A.D. According to the tale, he was a kindly old man who asked mothers how their children were behaving. If the children were well-behaved, they would receive gifts from St. Nikolaus. Just like in the story, Jolly Old St. Nicholas will give a small gift to every child at the concert.
This event is free for the whole family to attend. In lieu of paying for tickets to the concert, you're asked to give a monetary donation to support the Elmhurst-Yorkfield Food Pantry. This nonprofit organization has been part of the Elmhurst community for 35 years. It provides hope, compassion and food to struggling families and individuals in and around Elmhurst. Your donation is needed to make sure people in the greater Elmhurst community have the food they need this holiday season.
Make plans today to add the Jolly Old St. Nicholas Concert to your family's holiday calendar. This community event is festive, entertaining and fun for all ages, and it supports a worthwhile cause. We hope you can make it!
Date and Time:
November 30, 2018, 6:30-8 p.m.
Doors open at 6 p.m.
Location:
Yorkfield Presbyterian Church
1099 S. York St.
Elmhurst, IL 60126
Cost:
Free. Attendees are asked to make a donation to the Elmhurst-Yorkfield Food Pantry.
For More Information:
Visit www.elmhursthistory.org or call 630-530-6879.