Celebrate the Season with a Christmas Tree Lighting – Elmhurst BMW Dealer
It's Elmhurst's very first Christmas Tree Lighting of 2018 on Friday, November 16 at 6 p.m. Santa Claus always takes time from his busy schedule to stop by, so you can tell your children they'll have the chance to see the Jolly Old Elf himself! This festive holiday event is bursting with holiday spirit. Enjoy refreshments, Christmas carolers and visits with Santa. Of course, the moment everyone waits for is when the beautiful Christmas tree is lit, illuminating the night sky. All of us at Elmhurst BMW encourage you to create some holiday memories with your family by attending the Christmas Tree Lighting.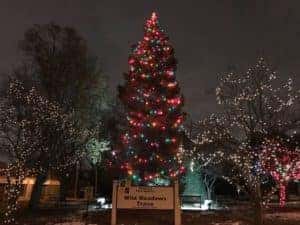 When you arrive at the gazebo near the intersection of Prairie Path and Spring Road, you'll be greeted by the sound of Christmas carols sung by local elementary school pupils. This musical holiday entertainment lasts until about 6:30 p.m., when Santa Claus arrives by fire engine. You can sip hot chocolate and indulge in some cookies while the children visit with Santa. Then the Christmas tree is lit for everyone to enjoy.
This fun, family-friendly event is held annually by the Spring Road Business Association. The association of local businesses started in 1950 and sponsors activities and events in Elmhurst throughout the year. All Spring Road shops and eateries are open as usual on Friday evening after the Christmas Tree Lighting, so you can warm up at one of the many nearby restaurants or stores.
Be sure to put Elmhurst's first Christmas Tree Lighting and visit by Santa Claus of the 2018 holiday season on your calendar for Friday, November 16 at 6 p.m. The evening temperature is forecast to be 35 degrees or lower, as usual for this time of year. So dress warmly and come out for this very special event that could become a cherished holiday tradition for your family.
Date and Time:
November 16, 2018
Local elementary school students will sing Christmas carols from 6 p.m. to 6:30 p.m. The arrival of Santa Claus and the Christmas Tree Lighting takes place from 6:30 p.m. to 7 p.m.
Location:
The Gazebo at the intersection of Spring Road and Prairie Path
483 S. Spring Rd.
Elmhurst, IL 60126
Admission:
This event is free.
For More Information:
Visit the Spring Road Business Association at https://springroad.com.