Choose Your Adventure at Eldridge Adventure Day – Elmhurst BMW
Bring the family to Eldridge Park on Sunday for a day filled with fun outdoor events. Eldridge Adventure Day takes place on June 10, from 10 a.m. to 1 p.m. So many exciting outdoor activities are scheduled, the organizers say kids can choose their own adventure. Whether your children decide to check out the exotic animals on display, join the bug hunt or enter the fishing derby, the whole family is guaranteed to have a great time. At Elmhurst BMW, we appreciate all the exciting family events available in our community throughout the year. We're sure this will be a great one. So, head on over to Eldridge Park on Sunday and enjoy this special day.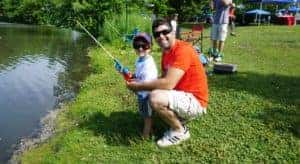 Of course, no event in Elmhurst is complete without the city's best food. One thing's for sure, no one will leave hungry, because Eldridge Adventure Day features food trucks from some of our favorite establishments, including Beaver Donuts, Barbeque Jim's, Chesa's Gluten Tootin' Free, Smallcakes, Mario Cart, Toasty Cheese and the Crave Bar.
Many local organizations teamed up to present Eldridge Adventure Day, including Courts Plus, Edward-Elmhurst Health, Elmhurst Dentistry for Kids, Huntington Learning Center and the Schiller Team. Community Bank of Elmhurst pitched in again this year to provide overflow parking during the event. Event attendees can park in bank's front or back parking lot at 330 W. Butterfield Road in Elmhurst.
We're sure Eldridge Adventure Day will be day a of fun for the entire family. We hope you can make it over to Eldridge Park on Sunday and enjoy the many activities available.
Date and Time:
June 10, 10 a.m. to 1 p.m.
Location:
Eldridge Park
Elmhurst, IL 60126
Admission:
Admission is free. The fishing derby is open to children age 7 and over. Bring your own bait, tackle and pole.
For More Information:
Visit www.epd.org.