Design Your Own Superhero at Cartooning Family Day – Elmhurst BMW Dealer
On Saturday, Dec. 9, you'll have the opportunity to create your very own superheroes, anime characters and villains, thanks to Elmhurst Art Museum's Cartooning Family Day! This special, one-day event is for kids and adults who want a unique opportunity to learn from artist and teacher Vincent Lotesto. Vincent will guide participants through a "character design challenge" inspired by the art museum's current exhibition, Hebru Brantley: Forced Field. All of us at Elmhurst BMW encourage you to take advantage of this fun, free afternoon of cartooning.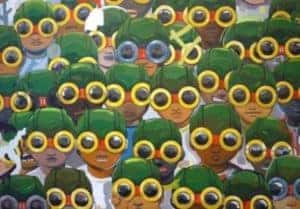 If you look around today, you're likely to find superheroes and anime characters just about everywhere — online, in movie theaters, comic books and on clothing and merchandise. One reason is because these characters take us into new worlds where special powers abound and adventures await just around the corner.
At the Hebru Brantley exhibit, you'll see the artist's colorful, iconic, pop-art characters that are influenced by outdoor murals and graffiti. This should help inspire you to create your own characters. Vincent will demonstrate basic techniques; then you'll begin to create your own superhero or villain. Then everyone will take part in the character design challenge.
Vincent Lotesto is a native of Chicago, where he currently lives and works. He is a talented multimedia artist and a 2015 graduate of Elmhurst College, where he received his Bachelor of Science degree in art. His drawings and paintings are influenced by surrealism, realism and expressionism.
We hope you take advantage of this opportunity to work with artist Vincent Lotesto and bring your own cartoon character to life. The event is free with museum admission or current Elmhurst Art Museum membership, and all necessary materials will be provided.
Date and Time:
Saturday, Dec. 9, 2017, 1-4 p.m.
Location:
Elmhurst Art Museum
150 S. Cottage Hill Ave.
Elmhurst, IL 60126
Admission:
Free with museum admission or current museum membership.
For More Information:
Visit bit.ly/2iiSC2n.