Discover Many Turns and Feats to Bewilder – Elmhurst BMW Dealer
Elmhurst College hosts its Spring Exhibition, Many Turns and Feats to Bewilder, featuring the work of printmaker Michael Barnes. His work is showcased in an exhibition in the college's Frick Center, Founders Lounge, and runs through March 17. In addition, Elmhurst College will host a public reception for Barnes on Wednesday, Feb. 14 from 4:30-6:30 p.m. Barnes will give an artist's talk about his work at 5 p.m. during the reception. All of us at Elmhurst BMW think this will be an exciting event, and we encourage you to attend this unique exhibition and support Elmhurst College.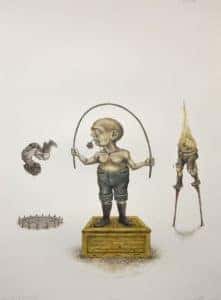 In his exhibition, Many Turns and Feats to Bewilder, Barnes acts as a social critic who creates art that highlights "the absurdities of life." Barnes is a master printmaker who specializes in lithography. His recent work often depicts figures that seem disengaged from their surroundings. His art questions the existence of humanity, critiques society and questions the evolution of modern civilization.
Barnes has received a multitude of honors and awards, and his work has been exhibited throughout the United States as well as Europe and Asia. He holds a Bachelor of Fine Arts degree from Alma College in Michigan and a Master of Fine Arts from the University of Iowa, Iowa City. He has been a professor of art (printmaking) at the Northern Illinois University School of Art in DeKalb, Illinois since 1998.
Come see the work of artist Michael Barnes in Many Turns and Feats to Bewilder at Elmhurst College's Spring Exhibition.
Date and Time:
The exhibition runs through Saturday, March 17, 2018. The reception will be held on Wednesday, Feb. 14, 4:30-6:30 p.m. The artist's talk begins at 5 p.m.
Location:
Elmhurst College
Frick Center, Founders Lounge
190 S. Prospect
Elmhurst, IL 60126
Admission:
Both the exhibition and reception are free.
For More Information:
Visit www.elmhurst.edu/cultural, email srocca@elmhurst.edu or call 630-617-6110.