Discover The Disco Invasion in Films of the '70s – Elmhurst Jaguar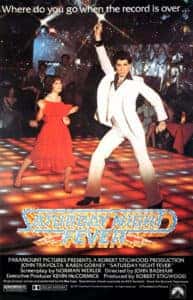 Disco was popular from the mid-1970s to the early 1980s. If you're old enough to remember this musical fad, there was no middle ground — you either loved it or you hated it. There was perhaps no greater show of disdain for this divisive genre than Disco Demolition Night, which took place at Comiskey Park. The exhibit documenting this landmark event runs through December 31, 2017 at the Elmhurst History Museum, so you still have time to check it out. But there's one last related event that we at Elmhurst Jaguar wanted to let you know about. On Sunday, November 5, the museum will present a lecture entitled "The Disco Invasion in Films of the '70s."
Peter Hawley, a college educator and filmmaker for more than two decades, will give the lecture. Hawley was the founding chair of Tribeca Flashpoint College's film program, and he was named Dean in 2014. He received an MFA from the University of Chicago.
"The Disco Invasion in Films of the '70s" will look at disco's influence on both film and American culture. Hawley will discuss the disco phenomenon in context with the milieu of the time. He'll examine how the Disco Invasion affected movies produced during the 1970s and beyond. Some of the films covered include:
Saturday Night Fever (1977): This film was instrumental in helping to popularize disco music around the world. John Travolta, who was already well-known for his role in the TV series "Welcome Back Kotter," became a global superstar. The soundtrack album, which included music by the Bee Gees, went on to become a smash hit
Thank God it's Friday (1978): Featuring performances by Donna Summer and the Commodores, this musical comedy stars Jeff Goldblum and Debra Winger. It tells the story of the Zoo, a fictional disco nightclub in Los Angeles. Summer received an Oscar for her performance of "Last Dance."
Boogie Nights (1997): Set in Los Angeles' San Fernando Valley, this film serves as a retrospective of the disco era. "Boogie Nights" starred Mark Wahlberg, Julianne Moore and Burt Reynolds.
Whether you remember the days of disco fondly or with disdain, or you want to learn more about your parents' generation, you'll enjoy looking back at this enigmatic era.
Date and Time:
Sunday, Nov. 5, 2017 at 2 p.m.
Location:
Elmhurst History Museum Education Center
120 East Park Avenue
Elmhurst, IL 60126
Admission:
Free for Museum members, $5 for non-members. Advance registration is required. Register at Eventbrite.
For More Information:
Call 630-833-1457 or visit www.elmhursthistory.org.