Discover The Rock Café at Lizzadro Museum – Elmhurst BMW Dealer
The Lizzadro Museum of Lapidary Art shares a treat from its permanent collection in an ongoing special exhibit called The Rock Café. You can see it through Friday, May 31 during regular museum hours. The Rock Café serves up three healthy meals made entirely of stones and petrified wood. It doesn't sound very appetizing, but wait until you see how utterly delicious it looks! The museum has even accompanied the exhibit with the humorous warning: "Eating rocks will lead to broken teeth!" All of us at Elmhurst BMW think the whimsical Rock Café will delight everyone from young children to the most seasoned rock hound.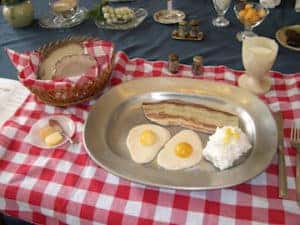 So what's on The Rock Café menu? There's a Paul Bunyan-style breakfast featuring two sunny-side eggs with golden yolks made of Mexican onyx. The bacon is striped onyx marble with a side of grits made from aragonite. Following that hearty meal is a light lunch or midday snack of feldspar cheese, Mexican onyx fruit salad and a glass of water with calcite ice cubes. Dinner is truly decadent, with black onyx caviar and quartzite crackers, a steak made of petrified wood and a green jasper spinach soufflé. A light dessert of fluorite gelatin squares completes the meal.
The Rock Café was created of shaped and polished stones by Lapidary Sylvia Josefek, who passed away in 2008 at the age of 87. She and her husband Paul, who was also a lapidary, were longtime residents of North Riverside and active members of the Earth Science Club of Northern Illinois.
Following Sylvia Josefek's passing, her children donated The Rock Café to the Lizzadro Museum. It's proved to be a popular exhibit that the museum displays every few years. "It's tremendously engaging to people," said Lizzadro Museum Director Dorothy Asher. "There's just this fascination that rocks can look like food."
Dates and Times:
Through May 31, 2019 during regular business hours
Tuesday through Saturday, 10 a.m. through 5 p.m
Sunday1-5 p.m.
Closed on Mondays
Location:
Lizzadro Museum of Lapidary Art
220 College Hill Ave.
Elmhurst, IL 60126
Admission:
Adults: $5
Seniors (ages 60 and older): $4
Students and teens: $3
Children 7-12: $2
Children under 7, Lizzadro Museum members and active members of the Armed Services: free
For More Information:
Call 630-833-1616 or visit www.lizzadromuseum.org.