Egg Hunt in Wilder Park is Fun for the Whole Family – Elmhurst BMW Dealer
Spring is officially here, and that means the Egg Hunt in Wilder Park is just around the corner! Families and their dogs from all over Elmhurst and the surrounding area will meet at the park on Saturday, April 20, at 9 a.m. Children can meet the Easter Bunny and have photos taken with him. The Egg Hunt begins at 10 a.m. sharp, followed by the Doggie Eggstravaganza at 10:30 a.m. All of us at Elmhurst BMW appreciate the good, old-fashioned family fun of the Egg Hunt in Wilder Park and hope you can attend. Remember to bring your Easter baskets!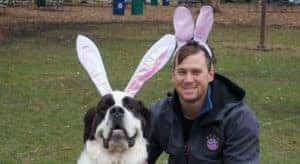 Make family memories by snapping photos of your children with the Easter Bunny starting at 9 a.m. Children ages one through 10 years can participate in the Egg Hunt. Kids will be divided into age groups, and each group has a designated area where they'll hunt for their share of the 10,000 plastic eggs hidden in the park. Some even contain special prizes! Age groups are from 1-2 years, 3-4 years, 5-7 years and 8-10 years old. Make sure to arrive early enough so your kids can be in the right area to hunt eggs with their age group by 10 a.m.
Family dogs get to hunt special, treat-filled eggs in the Doggie Eggstravaganza beginning at 10:30 a.m. Bring your dogs in costume and they could win prizes.
Here's a tip for all the moms and dads attending the Egg Hunt: you can help your younger children look for eggs and put them in their baskets, but the older ones should be fine on their own. The 2019 Egg Hunt in Wilder Park is brought to you by the generous support of the following community sponsors: Healthy Driven Edward-Elmhurst Health, the Schiller Team and Suburban Bank & Trust. We hope to see you there!
Date and Time:
Saturday, April 20, from 9 a.m to 12 p.m.
Easter Bunny photos begin at 9 a.m
Egg Hunt begins at 10 a.m.
Doggie Eggstravaganza begins at 10:30 a.m.
Location:
Wilder Park
175 S. Prospect Ave.
Elmhurst, IL 60126
Admission:
Free.
For More Information:
Call 630-993-8900 or visit www.epd.org.