Elmhurst Jaycees Charity Carnival is Guaranteed Summer Fun – Elmhurst BMW Dealer
For those of us in the Elmhurst area, summer means fun. And at Elmhurst BMW, one fun event we look forward to every year is the 28th Annual Elmhurst Jaycees Charity Carnival. When you bring the family to the carnival, a good time is practically guaranteed. That's why thousands of people come to the carnival from Elmhurst and the surrounding area. There's always something for every age group: adults, teens and children.
The Jaycees also host "Special Children's Day," a day when kids with special needs and their families can visit the carnival at no charge, on a day when it's less crowed and less noisy.
In addition to providing a great place to spend time with family and friends, the carnival helps the Jaycees fund many charity organizations, which comes in the form of cash contributions, sponsorships and product donations.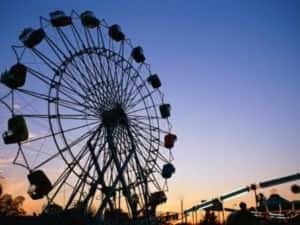 If you'd like to know which organizations the Jaycees support, here's a list of charities the group has assisted over the last few years:
American Cancer Society – Relay for Life
Child's Voice
District 205 Foundation
DuPage Easter Seals
Elmhurst Family YMCA
Elmhurst Children's Assistance Foundation
Elmhurst Memorial Hospital Foundation
Elmhurst Police Explorers
Elmhurst Yorkfield Pantry
Special Kids Day
United Community Concerns Association
So, head on over to the Elmhurst Jaycees Charity Carnival. You'll have a great time and you'll be helping to support some truly outstanding organizations.
Dates
August 17-20, 2017
Thursday: 6-10 p.m.
Friday: 6-11 p.m.
Saturday: 1-11 p.m.
Sunday: noon to 5 p.m.
Special Kids Day is Saturday, August 19 from 10 a.m. to noon. Registration for Special Kids Day begins at 9:30 a.m. at the carnival entrance between Prospect and Myrtle in downtown Elmhurst.
Location
128 W Park Ave. (between Prospect and Myrtle), Elmhurst, IL 60126
Admission
Mega passes will be available for $60 at the Jaycees booth. You can pre-order a Megapass and save $10! Admission to Special Kids Day is free.
For More Information
Call 630-589-9586 or visit http://elmhurstjaycees.com/?page_id=79. For more information on Special Kids Day, visit www.specialkidsday.org.