Enjoy Cabin Fever Funfest – Elmhurst BMW Dealer
If winter weather has got you down, then you need to check out Cabin Fever Funfest on Saturday, February 2, 2019, from 9 a.m. to 12 p.m. This free, family-friendly event is at Courts Plus, an Elmhurst Park District facility. Enjoy crafts, games, face painting and balloon twisting. You can also try out some of Courts Plus popular physical activities such as the 20-foot climbing wall, obstacle course, tennis courts or exercise equipment for kids in the Fit 4 Life Youth Gym. At Elmhurst BMW, we think Cabin Fever Funfest sounds like a great way for your family to use some of that pent-up energy that comes from being stuck inside.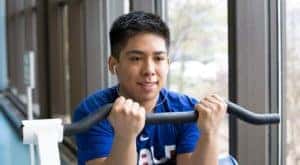 The Fit 4 Life Youth Gym that kids can try out during Cabin Fever Funfest is a unique fitness program and gym for kids ages 6-15. Instructors help children learn strength training and how to have fun cardio workouts to put them on the path to regular physical exercise, fitness and health. The Fit 4 Life Youth Gym and Fit 4 Life exercise classes are offered during after school and evening hours as well as on weekends. Courts Plus has many other children's programs too, for little ones as young as pre-kindergarten age.
Courts Plus gets its name from the facility's multiple indoor courts where you can play racquetball, handball, wallyball, tennis or basketball. However, it offers so much more to the Elmhurst community. You can swim year-round in the indoor exercise and lap pool. Work out by yourself on the many cardio and weight machines, or feel the burn in one of Courts Plus' group fitness classes. Learn rock climbing or hire a personal trainer to meet your fitness goals. There are even amenities such as free child
care for members, a dry sauna, therapeutic whirlpool, and separate steam rooms for men and women.
You don't want to miss Cabin Fever Funfest on Saturday, February 2. It's a great opportunity to enjoy some healthy family activities and reinforce the importance of getting regular exercise. If cabin fever shows up at your house again, you'll know exactly what to do to send it packing.
Date and Time:
Saturday, February 2, 2019, 9 a.m. to 12 p.m.
Location:
Courts Plus
186 S. West Ave.
Elmhurst, IL 60126
Admission:
Free.
For More Information:
Call 630-833-5064 or visit www.courtsplus.com.