Enjoy Live Music at the Block to Block Party – Elmhurst BMW Dealer
On Wednesday, July 25, take your family (including the four-legged members) out for a fun evening at the Block to Block Party. Located at the Elmhurst City Centre, this summer tradition features live music in both the Fountain Plaza and the North York Plaza. Grab a bite to eat, browse downtown shops or just chill and listen to some great Chicagoland bands between 5:30 and 8:30 p.m. All of us at Elmhurst BMW appreciate outdoor entertainment on a summer evening, and we encourage you to attend the Block to Block Party.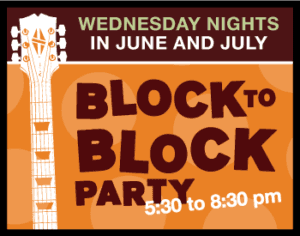 Back by popular demand, the Blue Aura band will entertain you at the Fountain Plaza while Lake Effect plays in the North York Plaza. There will also be free craft activities for kids and treats for dogs in the Fountain Plaza.
The three members of the Blue Aura band play favorites from the 1970s to today's top 40 hits. If you name a genre of music, they can play it, whether it's rock, soul, rhythm and blues, country or reggae. Blue Aura is known for their fun "acoustic party" sound. If you have a special request, you can text it to the band during the show.
Lake Effect is an eight-piece blues band that also plays classic rock and swing music. In addition to a typical band's guitars, bass and drums, Lake Effect has a horn section that just might get you up on your feet dancing! They regularly play events in Elmhurst and the surrounding area.
Summer will be over before you know it, so you certainly don't want to miss the Block to Block Party next Wednesday evening at Elmhurst City Centre!
Date and Time:
July 25, 2018, 5:30-8:30 p.m.
Location:
Elmhurst City Centre
The Fountain Plaza is at York and Schiller Streets.
The North York Plaza is in the 200 Block of North York.
Admission:
Free.
For More Information:
Call 630-993-1600 or visit www.elmhurstcitycentre.com.