Enjoy Mozart Magic at Mayslake – Elmhurst BMW Dealer
On Saturday, Jan. 11, 2020, the Elmhurst Symphony Orchestra will present an afternoon of sublime music at Mayslake Peabody Estate, as the 2019-20 season continues with Mozart Magic. The concert is held under the auspices of Stephen Alltop, Music Director and Conductor. The orchestra will perform stellar favorites at 2:30 p.m. All of us at Elmhurst BMW appreciate the talented musicians of the Elmhurst Symphony Orchestra and we encourage our customers to attend this wonderful afternoon of music.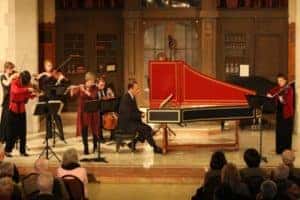 At Mozart Magic, the Elmhurst Symphony Orchestra will perform Mozart's Divertimento in F major, Serenade in C minor and Serenade in E-flat major. Also on the program is Ave Verum Corpus, performed by the Symphony strings in a surround-sound presentation, as well as Igor Stravinsky's Octet.
The Mozart Magic concert is sponsored in part by Tim and Carol Rounds, Elaine Libovicz, and an anonymous donor. The audience is invited to tour the Mayslake mansion before the concert, from 1-2 p.m. At 1:45, there will be a discussion, Behind the Music Stand, given by the venerable Dr. Ted Hatmaker.
If you've ever attended a concert by the Elmhurst Symphony Orchestra, you know how good this ensemble is. If you haven't, you're in for a real treat. So head out to Oak Brook on Jan. 11 and experience Mozart Magic.
Date and Time:
Saturday, Jan. 11, 2020
A guided tour of the Mayslake mansion begins at 1 p.m. at a cost of $5 per person. The tour lasts one hour.
The talk, Behind the Music Stand, begins at 1:45 p.m.
The concert begins at 2:30 p.m. Doors open at 2 p.m.
Address:
Mayslake Peabody Estate
1717 W. 31st Street
Oak Brook, Illinois
Admission:
Concert tickets are $30 per person. Student tickets are $12 each. All tickets are general admission. Parking is free, and the venue has accessible parking and facilities.
For More Information:
Visit www.elmhurstsymphony.org or call 630-941-0202 for information and tickets.