Enjoy the Spring Road Easter Egg Hunt – Elmhurst BMW Dealer
The entire family will enjoy the Spring Road Easter Egg Hunt, which takes place on April 20th, from 12:30-2 p.m. Children of all ages can get a chance to meet the Easter Bunny and search for the thousands of candy-filled eggs that will be placed around Wild Meadows Trace. The egg hunt begins at 1 p.m. sharp, so arrive early to be sure not to miss this exciting event. At Elmhurst BMW, we believe we're lucky to live and work in a community that offers so many family events and outings and we encourage everyone to attend the Spring Road Easter Egg Hunt.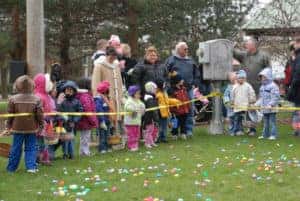 The tradition of hunting for Easter eggs began in Pennsylvania in the 1700s. At that time, German immigrants brought their Osterhase (Easter Bunny) tradition to the United States. Originally, nets were used to hunt for Easter eggs, but they were eventually replaced with baskets. At that time, the Easter Eggs were hard boiled, but eventually, prizes included chocolate, toys, and even coins. Today, many families give gifts of Easter baskets filled with chocolate bunnies and chocolate eggs.
If you're wondering how eggs became associated with rabbits in the first place, it's thought that the idea may have come from the Romans, who believed eggs were the source of all life. But the link between rabbits and eggs may have its origins in Pagan traditions. They associated rabbits with the moon and eggs with the sun. On the spring equinox, the day and the night are equal in length, so the rabbit and the egg come together.
We may not be sure how the Easter Bunny and eggs became linked together, but we know you'll have a great time at the Spring Road Easter Egg Hunt! Bring your Easter basket to the event to collect your Easter eggs. A meet and greet with the Easter Bunny starts at 12:20 p.m. The event is held annually on the Saturday before Easter.
Date and Time:
Saturday, April 20, 12:30-2 p.m.
Location:
Wild Meadows Trace by the Gazebo on Spring Road, near Prairie Path
Elmhurst, IL 60126
Admission:
Free
For More Information:
Contact the Spring Rd. Business Association by emailing info@springroad.com or visit https://springroad.com/our-events.