Experience Gertrude Abercrombie: Portrait of the Artist as a Landscape – Elmhurst BMW Dealer
There's still time to see Gertrude Abercrombie: Portrait of the Artist as a Landscape at the Elmhurst Art Museum. This traveling exhibit of 40 Abercrombie paintings runs through Sunday, March 4, 2018. There's nothing quite like this Chicago-based artist's surreal, minimalist paintings. Abercrombie examined her own fears and dreams and translated them into paintings that have been called "psychic self-portraits." All of us at Elmhurst BMW encourage you to attend this fascinating exhibit and support the Elmhurst Art Museum.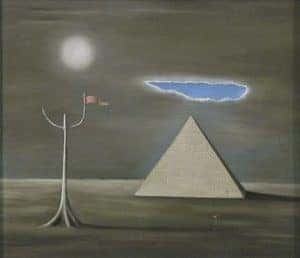 Abercrombie's art explored recurring themes such as landscapes featuring clouds, cats, sea shells and even ostrich eggs. Although we can't know exactly what these represented, Abercrombie said, "It is always myself I paint."
Abercrombie, who died in 1977, led an interesting life. She was active in the Chicago-area jazz and arts scenes and was friendly with many popular jazz musicians of the day, including Sonny Rollins, Sarah Vaughan and Dizzy Gillespie. As a result, she was called "the queen of the bohemian artists" and was well-known for entertaining at weekend parties in her home. The jazz musicians influenced her work. Dizzy Gillespie said she was the first bop artist. He explained: "Bop in the sense that she has taken the essence of our music and transported it to another art form."
Like the jazz she admired, Abercrombie's work is timeless. It's still as unique and relevant today as when she first created it. Many of her paintings are in private collections as well as museums and galleries, such as the Smithsonian American Art Museum in Washington, D.C., the Art Institute of Chicago and the Museum of Contemporary Art in Chicago.
This exhibit, Gertrude Abercrombie: Portrait of the Artist as a Landscape, includes paintings from the collection of Gary and Laura Maurer as well as Elmhurst College and the Illinois State Museum. Don't miss it before it travels onto its next stop in Springfield.
Date and Time:
Through Sunday, March 4, 2018. Hours: Tuesday through Thursday, Saturday and Sunday: 11 a.m. to 5 p.m. Friday: 11 a.m. to 7 p.m.
Location:
Elmhurst Art Museum
150 Cottage Hill Ave.
Elmhurst, IL 60126
Admission:
$9 for adults, $8 for seniors, and free for students and anyone 18 or younger. Admission is free to the public on the first Friday of every month.
For More Information:
Visit www.elmhurstartmuseum.org or call 630-834-0202.