Explore Local Haunted History – Elmhurst BMW Dealer
If you like your Halloween traditions on the spooky side, be sure to check out Haunted History on Saturday, October 20, from 6-8:30 p.m. Your adventure begins at the historic Fischer Farm in Bensenville. From there, you'll take an old-fashioned hayride to nearby Churchville Schoolhouse. Learn about macabre Victorian mourning rituals from the 1800s, and take a walk through Churchville Cemetery after dark and hear ghost stories. At Elmhurst BMW, we think Haunted History sounds like a lot of fun!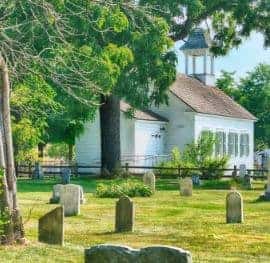 Haunted History begins at Fischer Farm, one of the county's oldest original homesteads in the county. Enjoy a hayride to Churchville Schoolhouse, where you'll learn about some of the unusual Victorian customs surrounding the death of a loved one. For example, they incorporated locks of the deceased's hair into jewelry. Hear about these creepy rituals as well as the meaning of cemetery symbols used on Victorian gravestones beginning in the 1870s.
Make your way through Churchville Cemetery and Fischer Woods, which are quite eerie by lantern light. You'll return to Fischer Farm for tours, hear ghost stories around the fire and enjoy s'mores and hot cider. What a great way to learn about local history and enjoy some spine-chilling fun this Halloween season!
Registration is required for Haunted Halloween. You can register in-person at the Bensenville Park District office located at 1000 W. Wood St., Bensenville. You can also register by phone at 630-766-7015. Participants must be 14 years or older and able to cross uneven ground in low light conditions. Haunted Halloween is presented by the Elmhurst History Museum and the Bensenville Park District.
Date and Time:
October 20, 2018, 6-8:30 p.m.
Location:
Fischer Farm
16W680 Grand Ave.
Bensenville, IL 60106
Churchville Schoolhouse
3N784 Church Rd.
Bensenville, IL 60106
Admission:
The cost is $25 per person.
For More Information:
Contact the Elmhurst History Museum at 630-530-6879 or visit www.elmhursthistory.org.