Fight Hunger at Dan Gibbons Turkey Trot – Elmhurst BMW
Dan Gibbons Turkey Trot has become an annual Thanksgiving tradition for a growing number of people in the Elmhurst area. They get together with friends and family and hit the streets before taking part in their holiday feast. All of us at Elmhurst BMW encourage you to hit the streets on the morning of Nov. 23 and take part in the 34th Annual Dan Gibbons Turkey Trot. This 5K fun run is always a great time and you'll be helping to provide meals to those in need in DuPage County.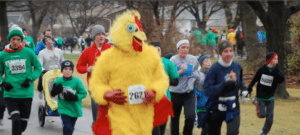 The beginnings of Dan Gibbons Turkey Trot date back to 1983, when Dan was listening to talk show host Ed Schwartz on WGN. Schwartz pointed out that the city of Chicago spent $300,000 on fireworks for the city's New Year's Eve celebration, money he thought would have been better spent to feed the city's poor. Recognizing there was a similar problem in DuPage County, Gibbons joined Schwartz's Good Neighbor Food Drive.
Gibbons and his friends hit upon the idea of starting a 5K race to raise money to provide food for the hungry. The first Dan Gibbons Turkey Trot, which took place on Thanksgiving Day of 1984, took in $250. Since then, the Turkey Trot has raised nearly $4 million to help feed those in need, and the event attracts approximately 8,000 runners each year.
So, come on out and participate in this year's race. You can register online or in-person at the registration tent on the day of the race. You'll have a great time and it will feel good to know you're helping to feed the hungry.
Date and Time:
Thursday, Nov. 23 at 9 a.m. For the complete schedule of events, visit bit.ly/2AdHD1h.
Location:
The 5K race (about 3 miles) starts at the intersection of Park Ave. and Adell Place in Elmhurst.
Registration:
Registration is $35 in advance and $40 on the day of the event. Register online at bit.ly/2iyZAjx. On the day of the race, you can sign up at the Registration Tent at Elmhurst College Gym starting at 6:45 a.m. Visit bit.ly/2h9bHmS for complete registration details.
Parking and Trolleys:
Information on parking and trolleys is available at bit.ly/2hgR2RN.
For More Information:
Call the Turkey Trot Hotline at 630-415-2816 or visit dangibbonsturkeytrot.org.