Help the Hungry at the UCCA 40th Annual Holiday Food Drive – Elmhurst BMW Dealer
The United Community Concerns Alliance is seeking volunteers to help with the UCCA 40th Annual Holiday Food Drive. On Monday, November 26 through Wednesday, November 28, you can assist by sorting donated food and packing it in boxes for needy families whose children attend the 14 schools in the Elmhurst Community Unit School District 205. Without your help, these families may go hungry this holiday season. All of us at Elmhurst BMW encourage you to donate your time to help end hunger within our community.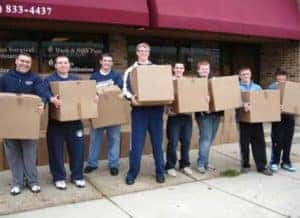 The UCCA 40th Annual Holiday Food Drive takes place each year to help make sure students and their families have enough food to eat. Children who go to school hungry face many disadvantages. The brain needs a steady supply of food to concentrate and learn. This means hungry children may not perform as well academically as their classmates. They may also have more behavioral problems in the classroom due to their inability to concentrate. Additionally, statistics show that hungry children are more likely to be held back a grade.
The mission of the UCCA is to strengthen our community by eradicating hunger. The alliance partners with many local businesses, churches and government agencies to work toward this goal. Organizations including the Elmhurst YMCA, the Elmhurst Park District and the Elmhurst Public Library collect food for the UCCA each winter holiday season. Thanks to the generosity of the Elmhurst community, last year the UCCA provided more than $87,000 in food and gift certificates to 278 needy families and 85 seniors.
You can help continue this worthy community program by volunteering to sort and pack food boxes between Monday, November 26 and Wednesday, November 28, from 9 a.m. to 3 p.m. Meet at the Elmhurst Public Works Garage located at 985 S. Riverside Dr. During this season of giving, please consider volunteering to make the UCCA 40th Annual Holiday Food Drive a success!
Date and Time:
November 26-28, 2018, 9 a.m. to 3 p.m.
Location:
Elmhurst Public Works Garage
985 S. Riverside Dr.
Elmhurst, IL 60126
Admission:
This event is free.
For More Information:
Visit www.ucca-Elmhurst.org or email ucca.elmhurst@gmail.com.