Join Strides Against MG Run/Walk – Elmhurst BMW
The 6thAnnual Strides Against MG Run/Walk fundraiser is returning to Elmhurst on Sunday, June 3. This year's theme is Vikings, so you and your family can participate in a 5K Fun Run, Walk or Kids' Dash while wearing horned warrior helmets and any other Viking accessories you might have. In addition to the Run/Walk in Berens Park, there will be plenty of other family-friendly activities. Enjoy bubble blowing, hula hooping, live music by Peter Jens, Viking snacks and prizes. All of us at Elmhurst BMW support event organizer Conquer MG and hope to see you on June 3.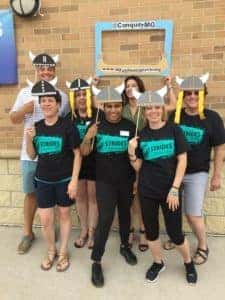 If you'd like to walk or run in the Strides Against MG Run/Walk, you can still register online at the Conquer MG website, www.myastheniagravis.org/2018-run-walk.If you pre-register, the fee is $35 for adults and $15 for children under 13. You may also register on June 3 beginning at 7:30 a.m. in Berens Park. The fee on the day of the event is $40 for adults.
The 5K Fun Run starts at 8:30 a.m., followed by the Kids' Dash at 8:45 a.m. If you want to participate but can't do the 5K, the Viking Stroll is your best option. Choose to go one, two or three miles around the park. You can run or walk on your own, or form a team of Vikings for even more fun.
Strides Against MG Run/Walk is a fundraiser for Conquer MG (previously known as the Myasthenia Gravis Foundation of Illinois). The organization provides support for people in Elmhurst and Chicagoland who are fighting myasthenia gravis. This rare autoimmune disease strikes people of all races and ages. The chronic neuromuscular condition causes intermittent muscle weakness that can affect any area of the body. Since 1972, Conquer MG has provided awareness, education and support programs for people with myasthenia gravis.
Date and Time:
June 3, 2018, 7:30-10:45 a.m.
Event check-in and registration: 7:30 a.m.
Welcome: 8:15 a.m.
5K Fun Run: 8:30 a.m.
Kids' Dash: 8:45 a.m.
Viking Stroll: 9 a.m. (one, two or three miles around Berens Park)
Location:
Berens Park
493 N. Oaklawn Ave.
Elmhurst, IL 60126
Admission:
Pre-registered walkers and runners: $35
Same day registration: $40
Children under 13: $15
For More Information:
Call 800-888-6208, visit www.myastheniagravis.org/2018-run-walk or email info@myastheniagravis.org.