Join the Elmhurst Quarry Tour – Elmhurst BMW Dealer
Most Elmhurst residents probably don't spend much time thinking about flood control. Those who take the tour of the Elmhurst Quarry Flood Control Facility learn that's it's actually a fascinating subject. The Elmhurst Quarry Tour is an annual event that takes place this year on Saturday, September 31. We at Elmhurst BMW wanted to give our blog readers a little advance notice, because tickets for this event sell out quickly.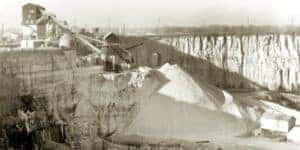 This is a rare opportunity to get a chance to see what goes on behind the scenes at the quarry, which is usually closed to the public. Visitors to the Elmhurst Quarry Tour will learn about the history of the quarry and how DuPage Stormwater Management operates the facility to protect the region against flooding.
The county bought the quarry in 1992. Construction started on the stormwater control components the following year. The facility was operational in 1996. The Quarry, which is 240 feet deep at its deepest point, holds 2.7 billion gallons of stormwater, and is the largest flood control facility in DuPage County.
Buy tickets early, as the Elmhurst Quarry Tour is a popular event that all Elmhurst residents can appreciate.
Date and Time:
Saturday, September 31, 2019. 9 a.m. to 4 p.m.
Tour buses leave from Elmhurst History Museum every 30 minutes from 9:30 a.m. until 2:30 p.m. Tours last about two hours.
Address:
Elmhurst History Museum
120 East Park Avenue
Elmhurst, IL 60126
Admission:
Tickets go on sale today. Tickets are $12 and are only available online at www.elmhursthistory.org (Special Events section). Children must be 10 years old and over, and there is a maximum purchase of five tickets per person.
A signed waiver must be filled out for each participant. Waivers are available online at www.elmhursthistory.org in the Special Events section (download the waivers and bring them on the day of the event) or in the museum gift shop.
For More Information:
Call 630-833-1457 or visit www.elmhursthistory.org.