Join the Fun Family Bike Ride – Elmhurst BMW Dealer
The Elmhurst Bicycle Club invites you to attend its free Family Bike Ride on Sunday, August 19 from 1-2 p.m. Everyone in the family is welcome to take part in this slow ride on low-traffic roads. Before the ride begins, you'll learn bike safety rules of the road as well as how to wear your helmet correctly. At Elmhurst BMW, we love discovering new ways for families to have fun together. We highly recommend that you attend the Family Bike Ride on August 19 and enjoy the summer while it lasts.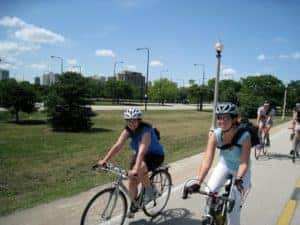 Whether you regularly ride bicycles with your family or not, the Family Bike Ride provides a safe experience for beginners as well as experienced cyclists. You'll meet at the intersection of Prairie Path and Spring Road. After the safety briefing, everyone will ride as a group into downtown Elmhurst before returning to Prairie Path and Spring Road. All participants must have bike helmets and are required to wear them. Bring water with you. Please note that if it rains that day, the ride will be canceled.
The Elmhurst Bicycle Club has been a part of the community for over 40 years. Its more than 500 members include beginner to advanced skill levels. The club is one of the most active in Chicagoland. When winter weather interferes with outdoor cycling, members can participate in skiing, hiking and other social activities.
No reservations are required for the Family Bike Ride — just show up and have fun! We hope to see you there.
Date and Time:
Sunday, August 19, 2018, 1-2 p.m.
Location:
Prairie Path and Spring Road
Elmhurst, IL 60126
Admission:
Free.
For More Information:
Call 630-605-1126 or visit www.elmhurstbicycling.org.