Kids Will Love Santa's Workshop at Wilder Mansion – Elmhurst BMW Dealer
The secret location of Santa's workshop has been revealed, and kids can visit this magical place at Wilder Mansion. Santa's Workshop at Wilder Mansion is open on Saturday, Dec. 7, from 1-4 p.m. The elves will be taking a break from their toy-making duties to allow kids and their parents to have full run of the place. Santa's workshop provides children with a special place to buy gifts for family, friends, teachers and even pets. At Elmhurst BMW, we look forward to this event every year. It's a lot of fun and it shows children the value of giving to others during the Holiday Season.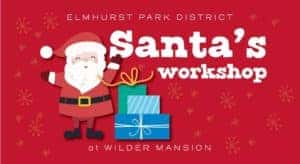 The majestic Wilder Mansion will be decorated for the holidays, providing a festive location for Santa's Workshop. The items for sale at Santa's Workshop are economically priced and kid-friendly, so children can select the perfect gifts for all their friends and family members. Kids will find the holidays particularly meaningful when they give gifts they chose and bought themselves from Santa's Workshop at Wilder Mansion.
Santa's elves will be on hand to serve cookies and cocoa to everyone. Kids can make holiday crafts and all children who visit will have a chance to meet Santa and get a free photo.
Santa's Workshop at Wilder Mansion is sponsored by Rush University System for Health (RUSH). The holiday gifts for sale at are provided by the Elmhurst Park District and many Elmhurst businesses and organizations. Everyone works hard to present this even to the community, so don't miss it. Head out to Wilder Mansion on Dec. 7 and experience the holiday magic the family won't forget!
Date and Time:
Dec. 7, 2019, 1-4 p.m.
Location:
Wilder Mansion
211 S. Prospect Ave.
Elmhurst, IL 60126
Admission:
There is no admission charge.
For More Information:
Visit www.epd.org or call 630-933-8900.