Learn About Fire Safety at the Elmhurst Fire Department Open House – Elmhurst BMW Dealer
Everyone's invited to join the Elmhurst Fire Department in their celebration of National Fire Prevention Week. The Elmhurst Fire Department Open House takes place at Fire Station #2 on Sunday, Oct. 13, from 12-4 p.m. This event is both educational and fun, allowing participants to learn more about fire prevention and fire safety methods. At Elmhurst BMW, we can't stress enough how much we value the Elmhurst Fire Department. This is a great opportunity to meet our firefighters and learn about fire safety.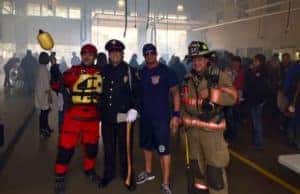 National Fire Prevention Week is sponsored by the National Fire Protection Association and is observed in both the United States and Canada. The week commemorates the Great Chicago Fire, which killed about 300 people on Oct. 8-10, 1871. Initiated by President Calvin Coolidge in 1925, Fire Prevention Week is held during the week in which October 9 falls.
The Elmhurst Fire Department Open House will feature a number of fun demonstrations and activities. A technical rescue team will simulate a high-angle rescue. Kids will love the sliding fire pole, while young children can have fun in the bounce house. There will be plenty of fire equipment on-hand, including fire trucks, a helicopter and more. Kids can ask the firefighters questions and take home educational handouts, too.
"It's a way for the public to come and see the fire station and see what the firefighters do," said Lt. Jeff Hayes, Elmhurst Fire Department Public Education Coordinator. "[They can] take a tour of the firehouse and we have a bunch of activities."
So, bring the kids out to Fire Station #2 for the Elmhurst Fire Department Open House. It will be a fun event and it will help keep your family safe.
Date and Time:
October 13, 12-4 p.m.
Location:
Fire Station #2
601 S. York Street
Elmhurst, IL 60126
Admission:
Admission is free.
For More Information:
Call 630-530-3090 or visit www.elmhurst.org.