Learn the Secrets of Dinosaurs at Dino Discoveries – Elmhurst BMW Dealer
If you have kids ages four and older who love dinosaurs, you won't want them to miss Dino Discoveries at the Lizzadro Museum of Lapidary Art on Saturday, March 23, 2019, from 2-2:50 p.m. Paleontologist "Illinois Bone" is your guide on this journey back to the time of the dinosaurs. During the fun, interactive lecture, "Dr. Bone" shows kids what paleontologists think dinosaurs might have looked like. Then, using fossils, various props and live animals, "Dr. Bone" tells the audience of amateur paleontologists which modern-day animals share characteristics with long-extinct dinosaurs. This popular lecture may fill up soon, so all of us at Elmhurst BMW encourage you to make your reservations for Dino Discoveries now. "Dr. Bone" is a fun, exciting teacher who keeps kids actively engaged in learning about dinosaurs.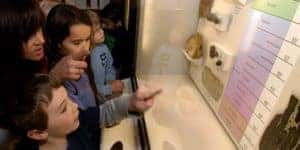 Although no human has ever seen a dinosaur, we have a good idea of what they looked like. That's because they left behind so many fascinating clues in the form of their fossilized teeth, bones, unhatched eggs and footprints. Dinosaurs were the undisputed heavyweight champions of the world until some catastrophic event happened around 65 million years ago that killed off all those that lived on land. Only some species of prehistoric birds and sea creatures survived. We don't know why this mass extinction happened, but one theory is that a giant meteor hit the Earth and caused rapid climate change that wiped out the dinosaurs.
Because scientists can extract dinosaur DNA from some remains, they can compare it with animals alive today. "Dr. Bone" talks about some of the dinosaurs' most common characteristics and uses real, live animals to show what they inherited from ancient dinosaur DNA. You might be surprised!
Reservations are highly recommended for the Dino Discoveries lecture, so make yours today by calling the Lizzadro Museum at 630-833-1616 or emailing educator@lizzadromuseum.org.
Date and Time:
Saturday, March 23, 2019, 2-2:50 p.m.
Location:
Lizzadro Museum of Lapidary Art
220 College Hill Ave.
Elmhurst, IL 60126
Admission:
The cost is $5. Lizzadro Museum members attend for free.
For More Information:
Call 630-833-1616 or visit www.lizzadromuseum.org.