Lend a Hand at Great Western Prairie Work Day – Elmhurst BMW Dealer
Henry David Thoreau said we can never have enough of nature. All of us at Elmhurst BMW agree. That's why Great Western Prairie Work Day is so important. It's a great way to help protect Elmhurst's 10,000-year-old prairie. So, come out on Saturday, September 16, at 9 a.m. and get involved with this worthwhile cause. You'll can make a real difference, while learning about prairie conservation.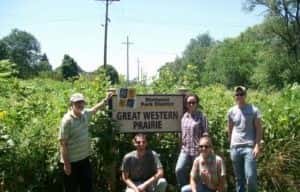 Volunteers at Great Western Prairie Work Day help out in a number of ways, including gathering and planting seeds, clearing brush and picking up refuse. Here are some recommendations for participants from the event organizers:
Bring work gloves.
Wear work clothes, including long pants.
Wear a good, sturdy pair of shoes.
Don't forget sunscreen and mosquito repellant.
Loppers are optional.
At the time of Elmhurst's founding in 1827, much of the state was prairie. Things have changed a lot since then, but we can all be thankful that the open spaces of the prairie haven't completely disappeared. The prairie remnant in Elmhurst is owned and maintained by the Elmhurst Park District. This six-acre strip is adjacent to the Illinois Prairie Path, with its borders consisting of:
North: the abandoned Chicago Great Western Railway right-of-way
South: the abandoned railway right-of-way (Illinois Prairie Path)
East: Spring Road
West: Salt Creek
There has been increased interest in preserving the Elmhurst Great Western Prairie over the last few years, thanks to the efforts of local conservationists. So, join the group and help!
Date and Time:
Saturday, September 16, 9 a.m. to 12 p.m. Rain date: Saturday, September 23.
Location:
Berkley Avenue and Prairie Path Lane (between Salt Creek and Spring Road).
For More Information:
If you'd like to volunteer, or for more information, contact the Elmhurst Park District volunteer coordinator at 630-993-8924 or email info@ipp.org. Visit the Elmhurst Great Western Prairie website at www.epd.org/elmhurst-great-western-prairie.