Look, Up in the Sky: It's Kite Fest! – Elmhurst BMW Dealer
We're all familiar with the sight of a kite soaring through the air on a windy day. But did you know that kites were invented in China and were in use as far back as the 5th century? Kites were used for carrying messages, measuring distances, signaling, testing the wind and even lifting men. Some kites were fitted with strings and whistles that made musical sounds. The first kites were made from materials that were on hand, including silk and material used for making sails. The frames were made from bamboo, which provided strong, lightweight support.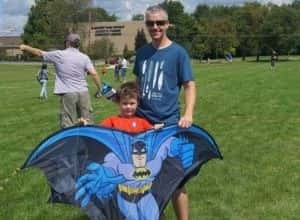 On Saturday, August 5, you can take a look at a wide array of modern kites, as the skies over Berens Park in Elmhurst are filled with color, fun and excitement. Mark your calendar for the Elmhurst Park District's fourth annual Kite Fest and come watch the kites soar, flip and glide.  It's a free community event that everyone in the family will enjoy. Some of us at Elmhurst BMW are old enough to remember the days before video games and social media, when we entertained ourselves with simple, single-line kites. So, come on out to the park on the first Saturday in August from 11 a.m. to 2 p.m. for some good, old-fashioned fun for the whole family.
In addition to flying your own kite during open fly times, you can watch some of the best professional kite flyers in the Midwest as they perform dazzling 3D maneuvers and other aerial stunts. Prepare to be amazed! There's lots more to do, too. Kite Fest features free kite building instruction, kite flying lessons, hula hoop contests, a candy drop and more.
This year's presenting sponsor for the annual Kite Fest is Edward-Elmhurst Health, one of the largest integrated health systems in Illinois. In addition to providing a wide variety of medical services, Edward-Elmhurst Health is a proud supporter of many community programs.
Date:
Saturday, August 5 from 11:00 a.m. to 2:00 p.m.
Address:
Berens Park
493 Oaklawn Avenue
Elmhurst, IL 60126
Admission:
Admission is free. Children must be accompanied by a responsible adult.
For More Information:
Contact the Elmhurst Park District at 630-993-8900, email kcollins@epd.org, or visit www.epd.org.