Next Stop Elmhurst with Dan Bartlett – Elmhurst BMW Dealer
Visit the Elmhurst History Museum on Thursday, Feb. 13 for Next Stop Elmhurst: An Exploration of Elmhurst Railroads Past and Present, a fascinating talk by Curator of Exhibits, Dan Bartlett. Next Stop Elmhurst is part of the Throwback Thursday Lecture Series. The lecture, which takes place from 3-4 p.m. in the EHM Education Center, covers the early history of the Galena Chicago Union Railroad as it developed in the western suburbs. Dan will explain how the emergence of this railway line from Chicago affected the cities and towns in the area. Our area has a rich history, and we at Elmhurst BMW are grateful that the Elmhurst History Museum provides so many educational programs for the members of our community.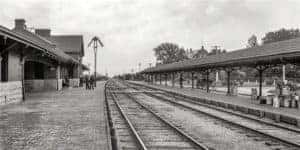 The Galena and Chicago Union Railroad (G&CU) was the first railroad built out from Chicago, running west from Chicago to Freeport, Illinois. Although it was chartered on January 16, 1836 to connect Chicago with the lead mines at Galena, it never actually made it out to Galena. "The Pioneer," the first locomotive on the G&CU, arrived at Chicago on October 10, 1848, nearly thirteen years after the charter was approved. The station at Elmhurst (then called Cottage Hill) was opened in 1849. The following year, the railroad reached as far as Elgin. As other railroads were built, Chicago eventually became the world's largest railroad center.
Next Stop Elmhurst is a great opportunity to learn about the history of our community. So, be sure to stop at the Elmhurst History Museum and catch this informative lecture. Next Stop Elmhurst is free to the public; however, registration is required.
Date and Time:
Thursday, Feb. 13, 2020, 3-4 p.m.
Address:
Elmhurst History Museum Education Center
120 East Park Avenue
Elmhurst, Illinois 60126
Admission:
Free. Registration required. Register online at https://bit.ly/2ShXm9R or call 630-833-6879.
For More Information:
Visit www.elmhursthistory.org or call 630-833-1457.