Opening Reception for American Images at Elmhurst Art Museum – Elmhurst BMW Dealer
The public is invited to meet Elmhurst artist Wesley R. Baker at a free opening reception at the Elmhurst Art Museum. The reception takes place on Friday, August 18, from 7 to 9 p.m. It celebrates the opening of the museum's new solo exhibition, American Images, which features Wesley's paintings. Held in the museum's Elmhurst Artists' Guild Gallery, the exhibition runs from August 13 to September 22. We at Elmhurst BMW believe the arts are important to our community and we know this will be an exciting exhibition.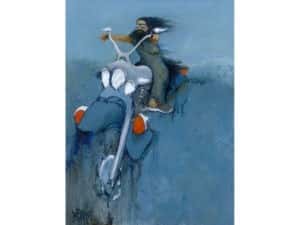 American Images features a variety of images that explore past and present political issues. The subjects of his paintings include motorcycles, Native Americans, Civil War images and landscapes.
Wesley describes his style as abstract representational. His inspiration comes from a succession of artists such as the 19th-century impressionists, Gustav Klimt, Franz Kline and abstract expressionist Ed Paschke.
Wesley's iconic motorcycle images are about the experience of having the wind in his hair while riding and the joy of motion. "The passion in these paintings is personal," he said. "Through my paintings, I strive to communicate experiences of life – joy, freedom, fear, grief."
In addition, most of the paintings on display are available for purchase, with a portion of the sales going to the Elmhurst Artists' Guild and the Elmhurst Art Museum.
Date:
The opening reception is Friday, August 18, from 7 to 9 p.m. American Images runs from August 13 to September 22.
Address:
Elmhurst Art Museum
150 Cottage Hill Ave.
Elmhurst, Illinois 60126
Admission:
Admission to the opening reception is free. American Images is open during the museum's regular hours: Tuesday, Wednesday, Thursday, Saturday and Sunday from 11 a.m. to 5 p.m., and Friday from 11 a.m. to 7 p.m. The museum is closed on Mondays. Admission to the museum is $9 for adults and $8 for seniors. Admission is free on the first Friday of every month. Museum members, EAG members, students and children under 18 are admitted free.
More Information:
For more information, visit elmhurstartmuseum.org or call 630-834-0202.