Panel Discussion to Examine Disco Demolition Night and 1970s Chicago – Elmhurst BMW Dealer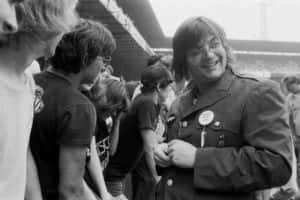 In our last blog post, we told you about the Disco Demolition Night exhibit at the Elmhurst History Museum. Some of us at Elmhurst BMW remember it as one of the craziest events in Chicago baseball history.
If you haven't had a chance to check out the exhibit, there's still time. It will be featured at the museum through October 8, 2017.
We'd also like to let you know about another special event relating to the infamous Disco Demolition Night. On Sunday, July 23 at 2 p.m., a panel of experts will discuss Chicago in the 1970s: Music, Sports and Radio. The moderator will be none other than Dave Hoekstra, one of the weekend hosts at radio station WGN-AM, and a successful writer and journalist who wrote the text for the museum's Disco Demolition exhibit.
Joining Dave on the panel will be former WLUP managers Mitch Michaels and Jeff Schwartz; former White Sox promotions manager Mike Veeck; Chicago Tribune sports writer Paul Sullivan; former Comiskey Park vendor Bob Chicoine; and former general manager of Faces disco club, Jim Rittenberg,
Together, the panelists have a wealth of knowledge about what happened on July 12, 1979. They were there that night as events unfolded and can tell the full story of an evening that impacted Chicago's sports and cultural history. They'll talk about how the event was reported by the media and will share their unique perspectives on what Chicago was like in the 1970s.
Following the panel discussion, Dave Hoekstra will lead a question-and-answer session with the members of the panel.
Address:
Elmhurst History Museum
120 E. Park Avenue
Elmhurst, IL 60126
Date:
Sunday, July 23 at 2 p.m.
Admission:
$10 for Elmhurst Heritage Foundation members and $15 for non-members. Seats are limited, so reserve your place now by visiting elmhursthistory.org (Adult Programs section) or Brown Paper Tickets at http://bpt.me/2934453.
For additional information about the museum exhibit or panel discussion, call 630-833-1457, contact ehm@elmhurst.org or visit www.elmhursthistory.org/322/Adult-Programs.