Park Palooza is a Great Family Night Out – Elmhurst BMW Dealer
If you thought Park Palooza was a fun time last year, we have some good news. The fifth annual Park Palooza promises to be better than ever. The event takes place on Saturday, August 19 from 5-10 p.m. at Berens Park. Those of us at Elmhurst BMW try to make it over to the park every year for this great event to listen to the music, eat some amazing food, and have lots of fun. It's a fantastic time for the entire family.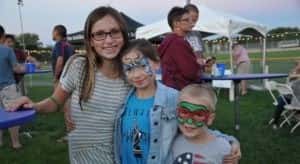 The event is always free (except for the food). Live music will be provided by Second Time Around from 5:30-7:30 p.m. and No Alternative from 8-10:15 p.m.
Second Time Around is Chicagoland's premiere classic rock cover band. They flawlessly recreate classic rock favorites from Yes and Fleetwood Mac to the Rolling Stones and Lynyrd Skynyrd.
No Alternative plays the best rock and pop hits. The band's lively repertoire includes today's hit songs as well as timeless classics. One thing's for sure, this band puts on a high-energy show that will get you up and dancing.
There are plenty of fun happenings for the kids, including arts and crafts and face painting. Park Palooza features a variety of food trucks that cater to every taste, including kid-friendly favorites like pizza, grilled cheese sandwiches and cupcakes. And the beer and wine garden is always a hit with the adults.
All the amenities of Berens Park will be open during the event, including batting cages and miniature golf. So, save the date and bring the family to Park Palooza this year. Take some lawn chairs and relax as you enjoy this end-of-summer event, which is presented by The Schiller Team, Edward-Elmhurst Health and Courts Plus. It's guaranteed to be a good time!
Date:
August 19, from 5-10 p.m.
Address:
Berens Park
493 Oaklawn Ave.
Elmhurst, IL 60126
For More Information
Call the Elmhurst Park District at (630) 993-8900 or go to http://www.epd.org.