Party On at Rock the Block Party – Elmhurst BMW Dealer
At Elmhurst BMW, we believe there's no better way to celebrate the end of summer than with an amazing party. That's why we're looking forward to Rock the Block Party, a two-day celebration held at Elmhurst City Centre on Friday, September 8 and Saturday, September 9.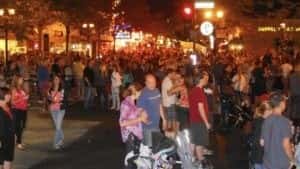 The fun starts on Friday at 4 p.m. and continues through 10:30 p.m. This promises to be an exciting night, with four amazing bands (7th Heaven, Erik Donner, Valentine Bennett and Wedding Banned) taking the stage in this rockin' block party.
What would a block party be without food? At the beverage and food tents, located along York from Schiller south to First Street, you'll find delicious fare from 16 City Centre restaurants, featuring everything from casual cuisine to fine dining. The beer and wine tent includes an excellent selection. Stores will be open during the event, so you can take advantage of this opportunity to visit the shops.
Those who prefer their fun in the daytime can visit Rock the Block Party on Saturday, starting at 11 a.m. There will be plenty of events for the kids from 11 a.m. to 5 p.m. at the free family fun zone. The City Centre restaurant booths will be set up outside, so you can grab lunch, dinner or snacks.
On Saturday, you can rock on all day long with free musical performances by more great bands: ARRA, American English, School of Rock, Sixteen Candles and Summer Son.
This is a truly momentous event, with organizers expecting as many as 7,000 to 8,000 people over the course of the two days. So, come on out, get your groove on, and enjoy the festivities!
Date and Time:
Friday, September 8, 4-10:30 p.m.
Saturday, September 9, 11 a.m. to 10:30 p.m.
Musical Act Schedule:
The entertainment stage will be located at Schiller and York.
Friday, September 8
Valentine Bennett: 4 p.m.
Erik Donner: 5:10 p.m.
Wedding Banned: 6:30 p.m.
7th Heaven: 8:45 p.m.
Saturday, September 9
School of Rock: 11 a.m.
American English: 2 p.m.
Summer Son: 4:45 p.m.
ARRA: 6:30 p.m.
Sixteen Candles: 8:45 p.m.
Location:
Elmhurst City Centre
247 North York
Elmhurst, IL 60126
Admission:
Admission is free.
For More Information:
Call 630-993-1600 or visit elmhurstcitycentre.com.