Savor Spooky Stories and Songs of the Season – Elmhurst BMW Dealer
If you love Halloween and things that go bump in the night, you'll want to attend "Spooky Stories and Songs of the Season," performed by the GreenMan Theatre Troupe. The annual event takes place at the First United Methodist Church on two nights, Friday, Oct. 19 and Saturday, Oct. 20. "Spooky Stories and Songs of the Season" features traditional folk tales, spooky stories, haunting musical interludes and more! This promises to be an entertaining event, so for an evening of ghosts, goblins, and Halloween frights, head out to the performance. The folks here at Elmhurst BMW know it will be a scary good time.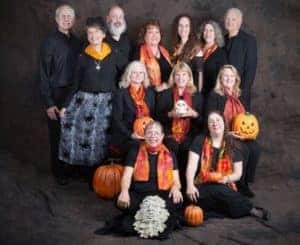 "Spooky Stories and Songs of the Season" is appropriate for adults and kids age seven and over. The show is performed in two sets with an intermission. The stories and songs were developed by members of a storytelling class taught by Carolyn Thomas-Davidoff. Several genres of stories will be on offer, including classic stories with origins in the oral tradition, literary tales, personal stories and urban legends.
A sampling of the stories the audience will enjoy at "Spooky Stories and Songs of the Season" include "The Gruesome Test" from Japan; "John Tangle and the Witch Cat," a southeastern American tale; "Skeleton Woman," a story from the far north; and "La Llorona," the Weeping Woman story that originated in Mexico and the American Southwest. Also included are "Next of Kin," "The Seamstress in the Graveyard" and "The Babysitter."
GreenMan Theatre Troupe is a community theatre group that has been going strong since 2004. In addition to the group's performances, GreenMan Theatre Troupe offers theatre classes and workshops in theatre arts.
Date and Time:
October 18 and 19, 7:30 p.m.
Location:
First United Methodist Church
232 S. York Street
Elmhurst, IL 60126
Admission:
$5. General admission tickets are available at the door or call 630-464-2646 for reservations.
For More Information:
Visit www.greenmantheatre.org or call 630-464-2646.