Screen Seasons of Change on Henry's Farm – Elmhurst BMW Dealer
Elmhurst Cool Cities Coalition presents a free screening of Seasons of Change on Henry's Farm on March 8 at Elmhurst College's Schaible Science Center. This documentary, presented as part of the One Earth Film Festival, explains how good food is brought to the table. It also shows how adaptability, biodiversity and resilience are essential for survival in a changeable future. We at Elmhurst BMW believe this will be an interesting and informative film, and we encourage you to attend. The film is rated PG-13, so it's suitable for teens and young adults.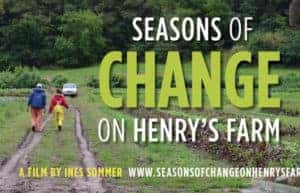 Seasons of Change on Henry's Farm tells the story of Henry Brockman, who has worked for 25 years on his Midwestern farm growing organic vegetables. But the farming life has taken a toll on Henry's aging body, and he decides to scale his operation back. With his former apprentices running the farm, Henry spends a year with his wife in Japan. An unexpected turn of events leads Henry to ponder the future of farming in a changing climate.
The One Earth Film Festival, a production of Green Community Connections, is the Midwest's leading environmental film festival. The festival provides learning opportunities in areas such as sustainability, climate change and human involvement. The One Earth Film Festival is a platform for thought-provoking environmental issues, with post-film discussions dedicated to finding solutions.
Last year's festival drew more than 6,200 attendees, who viewed 67 screenings of 28 films in 60 locations throughout Chicagoland, as well as in Lake, DuPage, and Kane Counties, and Whiting, Indiana.
We're sure you'll enjoy Seasons of Change on Henry's Farm, so make plans to attend!
Date and Time:
Sunday, March 8, 2020, 1-3:30 p.m. Doors open a half-hour before the start time. Plan to arrive early to avoid lines and get the best seats.
Address:
Elmhurst College
Schaible Science Center
190 S. Prospect Ave.
Elmhurst, Illinois 60126
This is an ADA-compliant, accessible venue.
Admission:
Tickets are limited, and reservations are encouraged. Participants can select free admission tickets or pay a suggested donation of $8. Register online at https://bit.ly/3bU6BGi.
For More Information:
Visit www.oneearthfilmfest.org.