See the Fascinating Margaret Lanterman: Sculpture Exhibit – Elmhurst Toyota Dealer
Elmhurst College features Margaret Lanterman: Sculpture as part of its annual Spring Art Exhibit, which runs through April 14. Lanterman's sculpture is influenced by her study of animal behavior and observations of the natural world. She creates art that explores the area in which "actual" nature and human nature intersect and investigates how they affect each other. This free event is in the Barbara A. Kieft Accelerator ArtSpace. Here at Elmhurst Toyota, we appreciate the many cultural activities in our city brought to us by Elmhurst College, our local museums and other fine organizations.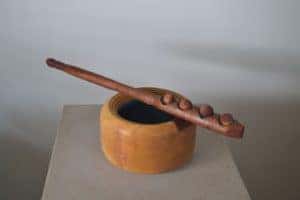 Margaret Lanterman: Sculpture includes art from three distinct time periods in her life. which are categorized as staff sculptures, hand portraits (workers) and mind games. Lanterman uses diverse materials to create her sculptures, including wood, plaster casts and found objects. According to Elmhurst College Curator and Director of Exhibits Suellen Rocca, "These beautifully crafted objects and sculptural works reflect a very personal vision about the way art reflects the flow of humanity."
Lanterman is an art educator as well as an artist. She earned a BFA in painting from Miami University and an MFA in sculpture from the University of Illinois. Her education includes graduate level study at Purdue University in ethology, the study of animal behavior.
Elmhurst College's Spring Art Exhibition is just one of approximately 12 art shows hosted each academic year in one of two campus locations. The college is also home to a stellar collection of art by Chicago artists dating from 1950 to the present day. The Chicago Imagist and Abstractionist Art collection is housed in the college's A.C. Buehler Library.
Date and Time:
Through April 14, 2018
Open Tuesday, Thursday and Saturday from 12-4 p.m.
Location:
Barbara A. Kieft Accelerator ArtSpace
200 W. Park Ave.
Elmhurst, IL 60126
Admission:
Free
For More Information:
Call 630 617-5186 or visit www.elmhurst.edu.