See the Imaginative Point of the Dream Art Exhibit – Elmhurst BMW Dealer
The Elmhurst Artists' Guild proudly presents The Point of the Dream, a solo exhibition of paintings by member Peter M. Steeves from July 15 through August 10, at the Elmhurst Art Museum. You're invited to the opening reception on Friday, July 20 from 7-9 p.m. where you can meet the artist and learn about his work. All of us at Elmhurst BMW support the Elmhurst Art Museum and the local artists in the Elmhurst Artists' Guild. We hope to see you at the opening reception!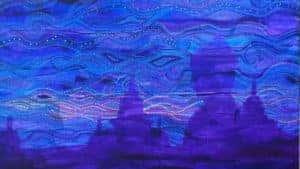 Steeves brings fragments of his dreams' imagery to life using a pointillistic (dot) technique of painting. He was originally inspired by Australian Aboriginal art, which uses a dot method of creating images. However, in Steeves' work, the dots are the focus of the painting, not just the background. The results are dreamy, symbolic paintings that incorporate elements of primitive art, surrealism and postmodern realism.
Steeves is a resident of Valparaiso, Indiana but works in Naperville. He is a self-taught artist whose work has been shown throughout the Chicago area, as well as in Indiana and Michigan
All of Steeves' paintings that you'll see at The Point of the Dream exhibition are available for sale. This is a great opportunity to purchase original art at reasonable prices.
Date and Time:
The exhibit can be viewed July 15 through August 10, 2018, during regular museum hours (Tuesday through Sunday from 11 a.m. to 5 p.m.) The opening reception is July 20 from 7-9 p.m.
Location:
Elmhurst Art Museum
150 S. Cottage Hill Ave.
Elmhurst, IL 60126
Admission:
$12 for adults
$10 for seniors
Free for Elmhurst Art Museum and Elmhurst Artists' Guild members, students and children under 18 years.
Please note that the first Fridays of each month are free admission days at the museum.
For More Information:
Call 630-279-1009, visit www.elmhurstartistsguild.org or bit.ly/2NGGlmZ.