Support the Performing Arts at the 2nd Annual Spotlight Gala – Elmhurst BMW Dealer
Mark your calendar for Saturday, September 30, 2017. That's the day the Elmhurst Centre for Performing Arts holds its second annual benefit, Spotlight Gala: Building Momentum. The benefit takes place at Elmhurst Art Museum. We at Elmhurst BMW believe it's important to foster an appreciation for the performing arts in our community and we urge everyone to support this worthwhile cause.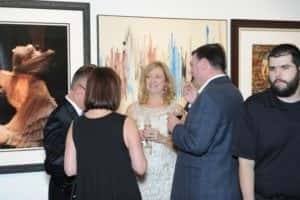 Participants can attend the pre-reception and/or the reception. The pre-reception features a performance by actor and soprano, Julie Sommer Peterson.
The Spotlight Gala reception will be an incredible evening of music, song and dance, including live music by the Elmhurst College Jazz band and performances by a variety of Elmhurst entertainers. There will be a delicious gourmet buffet, a bar, and both a silent and live auction.
All proceeds from the Spotlight Gala benefit will go to the Elmhurst Centre for Performing Arts (ECPA), an initiative to build a center for music, theater, comedy and dance in downtown Elmhurst.
The organization has been planning the ECPA initiative since July 2016. ECPA believes the time is right to establish a first-class facility due to the growth of the city and the upsurge in local talent in the areas of theater, music, dance and comedy. Plans for the center include two theatre spaces, a lobby, and a "green" rooftop that will be open to the community and available for performances and small gatherings.
Please come out to the Spotlight Gala and help support the ECPA.
Date and Time:
The Gala will be held on Saturday, September 30, 2017 at 7 p.m. The special pre-reception begins at 6 p.m.
Address:
Elmhurst Art Museum
150 Cottage Hill Ave.
Elmhurst, Illinois 60126
Admission:
Tickets are $150 for the Gala and $225 for the pre-reception and Gala. Purchase tickets at https://squareup.com/store/elmhurst-centre-for-performing-arts.
For More Information:
Contact the Elmhurst Centre for Performing Arts at ecpaelmhurst@gmail.com or visit www.ecpa-elmhurst.org. Sponsorship opportunities are available.