Take the McCormick House Tour – Elmhurst BMW Dealer
If you love architecture or you'd like to learn more about it, take the McCormick House Tour on Saturday, Feb. 8, 2020, for a special look inside the McCormick House. This docent-led guided tour offers participants a special opportunity to go behind the scenes of this mid-century dwelling. You may even meet some of the home's former residents. Elmhurst BMW is proud of the Elmhurst Art Museum's great work. We're lucky to have such a fine institution in our city.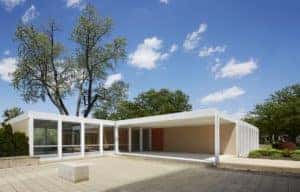 The McCormick House is part of the Elmhurst Art Museum. It was designed and built by German-American architect Mies van der Rohe in 1952. Van der Rohe, (or simply "Mies," as he was known) was one of the pioneers of modernist architecture. He was known for his international style that made use of sparse lines and free-flowing open spaces. The McCormick House, one of only three homes built by Van der Rohe in the United States, makes use of glass and steel in a modern style that was very different from the design of single-family homes of the early 1950s.
The Elmhurst Art Museum recently furnished the McCormick House, which was once located on Prospect Avenue, along with an exhibit that shows the way the home's interior might have been decorated at the time it was built. The museum periodically offers the McCormick House Tour to museum visitors.
If you've visited the McCormick house before, you'll enjoy the guided McCormick House Tour. You'll learn a lot about this modern architectural masterpiece.
Date and Time:
Feb. 8, 2020, 1:30-2:30 p.m
Location:
McCormick House
Elmhurst Art Museum
150 Cottage Hill Ave.
Elmhurst, IL 6026
Admission:
Admission to the McCormick House Tour is free with museum admission. Advanced registration is recommended. For tickets and registration, visit https://bit.ly/2RKRCWc.
For More Information:
For more information about the McCormick House Tour, visit the Elmhurst Museum of Art's website at www.elmhurstartmuseum.org.