Tell Tales Confidently with Story-telling Class – Elmhurst BMW Dealer
Make plans to attend the GreenMan Theatre Troupe's latest community theater offering, a Story-telling Class that begins on Saturday, August 4. Learn theater techniques to tell stories that will captivate your audience. The class takes place on three Saturdays in August. At Elmhurst BMW, we love hearing a good story that's told well. Who doesn't? Storytelling can be learned, and GreenMan Theatre's class is a great way to do it.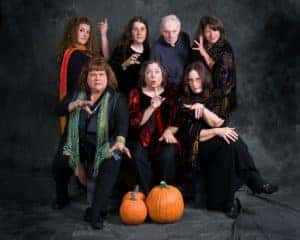 Learn tips to tell literary tales, traditional folktales, urban legends and personal stories on August 4, 11 and 25. An emphasis will be placed on tales of the spooky variety because these are part of the GreenMan Theatre's fall show, "Spooky Stories and Songs of the Season," on October 19 and 20. If you're are interested in appearing in the theater's fall show, just attend rehearsals immediately after the Story-telling Class. The theater director will let students know whether they've been selected to appear in the fall show.
The GreenMan Theatre Troupe has been part of the Elmhurst community since 2003. The troupe produces four performances during each theater season and also holds theater arts classes and workshops for the public. The theater is a place where members of the community can see and participate in live theater shows. The GreenMan Theatre Troupe is a not-for-profit organization and receives part of its annual funding from the Illinois Art Council Agency and the City of Elmhurst Grant Program.
So, head over to Story-telling class and test your talent to tell a tantalizing tale!
Dates and Times:
Saturdays, August 4, 11 and 25, 2018, from 10:30 a.m. to 12:30 p.m.
Location:
First United Methodist Church
232 S. York
Elmhurst, IL 60126
Admission:
$25 for members of the GreenMan Theatre Troupe, $30 for non-members
For More Information:
Contact the GreenMan Theatre Troupe at 630-463-2646, email thomdav@comcast.net or visit the website at www.greenmantheatre.org.