The Elmhurst Holiday Tree Lighting Ceremony Brings Cheer – Elmhurst BMW Dealer
It's the time of year to spread good cheer! And there's no better way to share the joy this holiday season than by attending the first Elmhurst Tree Lighting Ceremony. It all happens on Saturday evening, Nov. 18 and it promises to be a great time for the entire family. Everyone at Elmhurst BMW looks forward to this joy-filled annual event that celebrates the holiday spirit.
The Edison/Jefferson Singers kick off the festivities at 6 p.m. with festive Christmas carols. Hot chocolate and cookies will help keep you warm as you wait for Santa to arrive in a fire engine at 6:30 p.m. The lighting of the tree follows immediately after.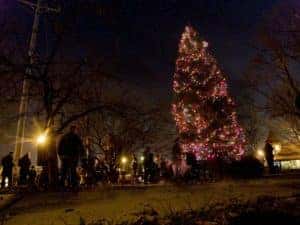 Speaking of Christmas trees, here are some facts about the holiday tradition you might not know:
The custom of using evergreen trees to celebrate winter festivals dates back thousands of years. Pagans decorated their homes with evergreen branches during the winter solstice. The green branches reminded them spring was on the way.
The Romans decorated their temples with fir trees during the festival of Saturnalia.
Evergreen trees were first used as Christmas trees in Northern Europe about 1,000 years ago. Many early Christmas trees were hung from the ceiling upside-down.
The cities of Tallinn, Estonia and Riga, Latvia both claim to be the place where the first tree was used to celebrate Christmas and New Year's.
Approximately 25 to 30 million live trees are sold throughout the United States each holiday season.
Sponsored by the Spring Road Business Association, the Holiday Tree Lighting is an Elmhurst tradition that began in 1950. This event is always a great time, so bring the whole family. We look forward to seeing you there!
Date and Time:
Saturday, Nov. 18, 2017, 6-7 p.m.
Location:
The Gazebo at Prairie Path and Spring Road (at the intersection of the Prairie Path and Spring Road)
483 South Spring Road
Elmhurst, IL 60126
Admission:
Admission is free.
For More Information:
For more information on the Holiday Tree Lighting in Elmhurst, visit www.springroad.com/our-events.