Visit Santa at the Annual Christmas Tree Lighting – Elmhurst BMW Dealer
Celebrate the arrival of the Christmas Season with Santa at the annual Christmas Tree Lighting. This holiday event takes place on Friday, Nov. 22 at 6 p.m. Bring the family and enjoy the tree lighting, Christmas carols, hot chocolate and cookies. Santa himself will be there at 6:30 p.m., riding in on a fire engine! Here at Elmhurst BMW, the Elmhurst Christmas Tree Lighting has been one of our favorite holiday events of the year, so we hope you and your family can make it out to the Gazebo this year.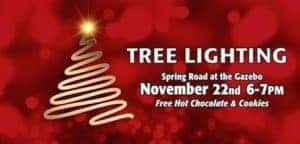 The proceedings start at 6 p.m. with traditional Christmas carols sung by Elmhurst elementary school children. The evening goes into full swing at 6:30 p.m., when Santa Claus arrives on a fire engine to greet the kids. Santa's grand entrance signals the start of the Christmas tree lighting. Children can visit with Santa until 7 p.m.
The Christmas Tree Lighting is held at the Gazebo at Prairie Path and Spring Road. One again, this family event is brought to you by the Spring Road Business Association, which was created by local businesses in 1950. The Spring Road Business Association sponsors many activities in Elmhurst throughout the year.
According to The Weather Channel, we should expect the usual winter temperatures for Friday, with a high of 39 degrees and a low of 29 degrees. No rain has been forecast for the evening. So, bundle up the kids and head out to the Christmas Tree Lighting. We're sure it will be a great time that you and your family will long remember.
Date and Time:
November 22, 2019
Christmas carols: 6-6:30 p.m.
Santa's arrival and Christmas tree lighting: 6:30-7 p.m.
Location:
The Gazebo at the intersection of Prairie Path and Spring Road
483 S. Spring Rd.
Elmhurst, IL 60126
Admission:
Free.
For More Information:
Visit the Spring Road Business Association's website at www.springroad.com.